Due to COVID-19 and Governor Pritzker's Phases, some camp details may change. Contact each individual camp to find out their protocol as it becomes available! Stay healthy & happy!
Thank you for making the North Suburban Camp Guide a part of your family's camp research! This guide is produced by Chicago North Shore Moms and Libertyville Area Moms. Camps are listed by alphabetical order so be sure to scroll all the way down or risk missing out on the camp for your child 
If you're looking for a specific Camp you can select Ctrl F or Command F and type in the Camp Name or keyword.
Thank you to our Sponsors: BDS Design Build Remodel & Lake Forest Country Day School
Beber Camp
W1741 Highway J, Mukwonago, WI 53149
Manitowish Waters, WI 54545
847-677-7130
[email protected]

Dear Family, Thank you for sending me to Beber Camp. I'm having the summer of my life. I've made a lot of new friends from all over the US. I don't miss my phone at all! The activities I chose this week are awesome! Today I went waterskiing, recorded my first song, and fed the goats. I'm a little nervous and excited because tomorrow I'm doing the Zip Line, but the counselors and my friends will cheer me on! After that, I have a choice of Ultimate Frisbee, Archery, or Ceramics. Guess what? On Shabbat, I get to eat with my sister and my camp family. This week, I baked the Challah and it's delicious. My counselors are so nice. One is from Israel and I hope I get to visit. Did you know that camp has a trip to Israel for the older campers? My counselor from England tells me to use my torch when it's dark outside (sounds so much cooler than a flashlight). And my other 2 counselors are celebrating 10 summers at Beber. I gotta go, rest hour is over! Beber Camp rocks! Putting on my sunscreen and headed to the pool. Love, Happy Beber Camper!
Age Groups: 7 – 15 years old
Dates:
June 20 – August 13
Hours: The office is open 8am – 10pm.
Camp Birch Knoll for Girls
Camp Birch Knoll for Girls
3500 Dam Lane
Phelps, WI 54554
847-763-3551
[email protected]
Family oriented and with a small enrollment to provide a warm, friendly, family "feel"!! Owned and operated by the Baier Family for 56 years! Campers custom design their instructional program based on their interest! Beautiful setting and facilities, amazing instructional program, super special events and evening program, and fabulous food!! The staff are enthusiastic, fun, and friendly!

Age Groups: 8 – 16
Dates: June 21 – August 11
Special Discount: 10% Tuition Discount for enrollment by April 1, 2021 with Code NorthShoreMOM
Camp Chi
Lake Delton, WI
847-763-3551
[email protected]
For 100 years, Camp Chi has transformed children's summers. We unplug campers from their daily lives and connect them to life-changing moments. And long after the last s'more, the best of Camp Chi stays with you. Where else can you sail a boat, fly down a zip line, record an original song, jump in a pool, hit an archery bullseye and sing around a campfire all in one day? Campers see opportunities for adventure and fun, while we see them making decisions for themselves, gaining independence and discovering their passions.
Age Groups: 7 – 16
Dates:
Session 1A (4 weeks): 6/20/21-7/16/21
Session 1B (3 weeks): 6/20/21-7/9/21
Session 2 (4 weeks): 7/18/21-8/13/21
Take Two (2 weeks): 6/20/21-7/2/21
Mini Session 2 (2 weeks): 7/18/21-8/1/21
Full 8-weeks: 6/20/21-8/13/21
Try Chi: 8/15/21-8/18/21
Camp Jorn
13591 Zenner Lane
Manitowish Waters, WI 54545
715-543-8808
[email protected]
Camp Jorn YMCA is situated on a 70+ acre peninsula of mature pine forest in Wisconsin's Northern Highland State Forest. Located on the shores of Rest Lake, part of the Manitowish Chain of Lakes, in Manitowish Waters, WI. Through the mission & tradition of YMCA camping, we place a strong emphasis on providing an unforgettable experience for the campers & families that we serve. We offer programming for children ages 8- 17 through our summer resident camp programs. New Three-tiered Pricing Program! Here at Camp Jorn we believe that all youth should have the opportunity to attend Resident and Day Camp. We know camp families have differing abilities to pay, so we offer a voluntary, Three-tiered Pricing Program to better meet all financial needs. You self-select the rate you can afford! Scholarships available! Visit our website at www.campjornymca.org or give us a call at 715-543-8808.
Age Groups: 8 – 17 years old
Dates:
Discovery Camp Ages 8-14
Discovery Camp Session 1: June 20-June 26
Discovery Camp Session 2: June 27-July 3
Discovery Camp Session 3: August 8-14
Explorer Camp Ages 10-14
Explorer Camp Session 1: June 20-July 3
Explorer Camp Session 2: July 11-July 23
Explorer Camp Session 3: July 25-August 6
TEVA Ages 13-15
TEVA 1: June 20-July 3
TEVA 2: July 11-23
TEVA 3: July 25- August 6
LIT Ages 15-16
LIT 1: July 11-July 23
LIT 2: July 25- August 6
CIT Ages 16-17
CIT: July 18-August 6
Hours: The office is open 7:30-4 in the summer
Special discount: Liberty2021 $50 off- 1 usage per family. No expiration.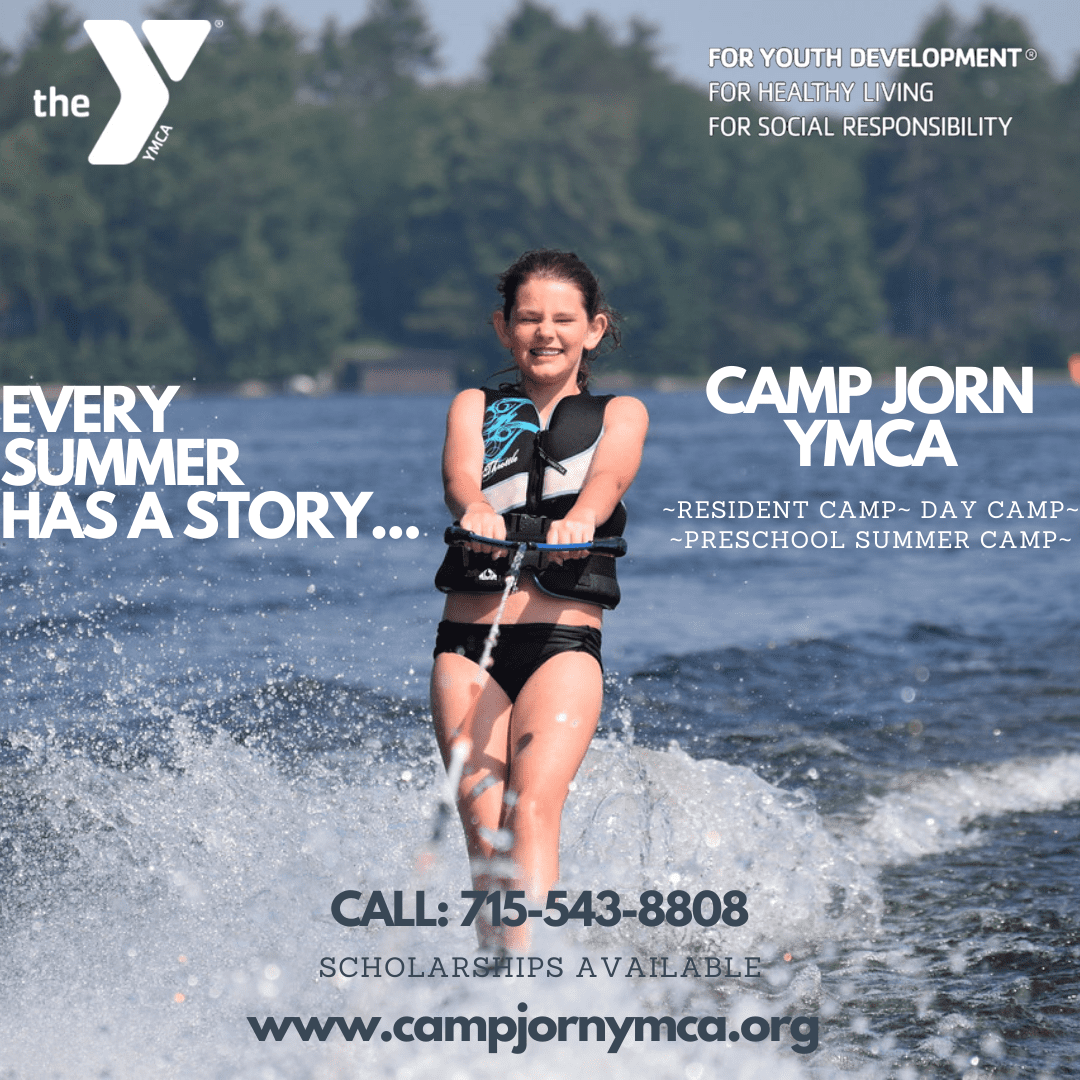 Camp Kamaji for Girls
Cass Lake, MN 56633
218-556-1805
[email protected]

Close your eyes and envision the best memories of childhood. I hope you are picturing being outside, surrounded by your friends and laughter, lots of laughter. This is the type of "back to basics" experience Kamaji provides for our campers. Camp Kamaji is a safe, fun-filled, child-centered place where girls learn independence, self-confidence, waterskiing, horseback riding, problem-solving, windsurfing, archery and the meaning of true joy. This is a camp for nice, fun, silly, adventurous, kind, funny, brave, loud, quiet, outgoing, reserved, sporty, theatrical, artsy, bookish, outdoorsy girls… this is a place for all kinds. There is no better time to have your child spend the summer outside and connecting with new friends. Contact us today to learn more about the greatest gift you can provide your daughter!
Age Group: Ages 7 – 16
Dates:
First Four Week Session: Thursday, June 17th- Tuesday, July 13th, inclusive
Second Four Week Session: Thursday, July 15th- Tuesday, August 10th, inclusive
Eight Week Session: Thursday, June 17th- Tuesday, August 10th, inclusive


Camp Kesem
Virtual
773-217-0051
[email protected]
Camp Kesem at UChicago is a free week-long camp and year-round community for kids affected by a parent's cancer. We serve youth ages 6-18 who have lost a parent/guardian to cancer, have a parent/guardian undergoing cancer treatment, or whose parent/guardian is a cancer survivor.  This year, like last year, camp will be run virtually as Kesem @ Home! Applications for families launches February 23. Additionally, if deemed possible and safe, we hope to begin each Kesem at Home virtual program week with an in-person, daytime event. Kesem at Home is a program designed to allow children impacted by a parent's cancer the opportunity to build connections and relationships, provide avenues for self-expression and reflection, and to have fun with other kids who are going through similar experiences. Kesem allows kids to be kids again. This is a remote program that brings the support of Kesem to the homes of our campers, where they will participate in interactive activities and discussions with other campers and their counselors, as well as activities they can take offline to complete by themselves or with their family. Each camper can participate in as many or as few activities as they choose.
Age Group: 6 – 18
Dates: 6/27/21 – 7/02/21
Hours:Programming (both online and offline) will run from the morning to the evening, with appropriate breaks in between. Campers can participate in as many or as few activities as they choose.
Camp Marimeta for Girls
3782 Gaffney Drive
Eagle River, WI
54521
847-970-4386
[email protected]
We are a family owned and operated traditional residential camp for girls located in Eagle River, WI. Since 1947, Marimeta has been the summer home to over 200 campers each year, with each session having a maximum of 165 campers at a time. Our size allows us to really emulate a small family environment, giving our girls a more personal and intimate camp community. From our 1000 feet of waterfront located on the private and gorgeous Meta Lake to our 30 ft. high challenge course, we offer over 40 activities for campers of all interests! Currently in it's fourth generation of directorship, Marimeta continues to offer a summer experience your daughter will remember and cherish for the rest of her life. Our campers are planting the social seeds that will grow into lifetime friendships at camp and beyond!
Age Group:
Mini Meta Rookie Camp – Current 1, 2, 3 Grade
Regular Camp – Current 2 – 9 Grade
Dates:
First Session: June 21 – July 16
Second Session: July 18 – August 11
Full Summer: June 21 – August 11
Mini Meta Program (Almost full at the moment): June 21 – July 3

Hours: Overnight Residential Camp
Camp Nicolet for Girls
PO Box 1359
Eagle River, WI 54521
715-545-2522
[email protected]

CATCH THE NICOLET SPIRIT! Camp Nicolet is a family-owned and operated private resident camp located in the heart of Wisconsin's beautiful North Woods. Campers from the USA and abroad enjoy water skiing, wakeboarding, horseback riding, tennis, swimming sailing, stand up paddling, kayaking, soccer, crafts, theater, yoga, and so much more! Exciting tripping opportunities are offered by Nicolet's Northpoint Adventures and include backpacking, sea kayaking, hiking, canoe and rafting trips (http://www.npadventures.org). Professional staff safely oversee all activities and we also offer a leadership training program for girls 14 and older. Recognized as a Pioneer of Camping, Camp Nicolet is proud to be celebrating our 77th year of excellent camping tradition! Accredited by the American Camp Association. A limited enrollment durung one six-week session is offered for 2021.
Age Group: Ages 7 – 17
Dates:
Hours: 8:30 am – 5:30 pm
Special Discount: Loyalty Discount for returning campers – 6/1/2021
Camp Ojibwa for Boys
4040 Ojibwa Drive
Eagle River, WI 54521
312-961-3262 or 773-497-7677
[email protected]

Camp Ojibwa builds future leaders through sports and community. We believe that competitive and instructional sports programming teach your sons valuable life lessons such as teamwork, confidence, sportsmanship, leadership, communication, goal setting, and many others. Our daily program utilizes both individual and team sports to impart these core life skills onto our campers. At Camp Ojibwa, your sons participate in everything from traditional team sports such as basketball, soccer, flag football, softball, and volleyball, to such technically skilled land and water sports as archery, rock climbing, zip-lining, kayaking, swimming, water skiing, canoeing, fishing, sailing, and tubing. Beyond our programming, Camp Ojibwa's staff remain our most unique attribute. Every year, the majority of our staff are former campers, creating a family environment from day 1. The counselors know their campers, which creates an immediate bond, filled with trust and respect. They know the program and grounds, allowing all of the campers to feel comfortable and welcome. With the staff's passion for camp, and our in depth training, they become the best resources to ensure a safe, fun and successful experience for your son. Camp Ojibwa is not simply a two, four, six, or eight-week visit, but rather a lifetime experience.
Age Group: Ages 6 – 16
Dates:
6/21-8/11: Full Session
6/21-7/16: First Session
7/18-8/11: Second Session
6/21-7/5 or 7/18-8/1: Two Week Sessions
7/5-8/11: Six Week Session


Camp Thunderbird for Boys and Camp Thunderbird for Girls
Camp Thunderbird for Boys and Camp Thunderbird for Girls
49536 Thunderbird Drive and 49300 Tbird Trail
Bemidji, MN 56601
314-647-3168
[email protected]

Situated on seven hundred acres with more than two miles of lake shore, our two camps are a few miles apart and operate with a spirit of cooperation. While the people are the heart and soul of camp, our setting provides the perfect backdrop for campers learning to connect with themselves and grow lifelong friendships. Brothers and sisters flourish in single gender camps and still have a shared experience. Campers, with guidance and support from counselors, choose daily from over 25 activities. Our campers literally create their own adventure, fueled by their personal interests and passions. And, whether they are athletes or performers, adventurers or artists, each day, they elect to focus on a favorite activity or expand their horizons. Positive peer pressure happens daily. Who better to encourage your camper to rock climb or water ski than a fearless friend or a favorite counselor? At Thunderbird, we promote that sort of camaraderie and collaboration so kids are encouraged to try something new while having a support team in place. Campers never outgrow Thunderbird, as each summer brings new opportunities and challenges. Whether choosing daily activities, participating in our extensive out of camp opportunities or embarking on one of our teen wilderness expeditions, our dynamic program captivates campers from eight to sixteen.
Age Group: Ages 8 – 16
Dates: June 20-July 16, July 17-August 11 and June 20-August 11
Special Discount: 10% off through the rest of February
Greenwoods for Boys
84600 47.5 Street
Decatur MI 49045
Winter:
650 Vernon, #202,
Glencoe IL 60022
847-242-0009
[email protected]

Greenwoods Camp for Boys is a community focused on character development, where boys develop the confidence they need to excel at camp and in the world beyond. With 50+ unique activity choices, our pristine grounds in beautiful southwest Michigan offer's state-of-the art facilities with the great outdoors. Since 1935, the spirit of our brotherhood combined with innovative programming is at the heart of the Greenwoods experience, a place for boys to discover their authentic self. Our boys are challenged to take healthy risks and form valued relationships with peers and counselors. The Greenwoods experience is more than just fun and friendship, we teach campers 21st century life skills including resilience, creativity, teamwork, independence, optimism and citizenship. Our Greenwoods campers say that they feel part of something bigger than themselves. We are proud of the camaraderie and community that we continue to build on each summer. Bring on your best!
Age Group: Ages 6 – 15
Dates:
Greenwoods 1st Session (4-weeks): Monday, June 21st – Friday, July 16th
Greenwoods 2nd Session (4-weeks): Monday, July 19th – Friday, August 13th
Grove 1st Session (2-weeks): Monday, July 5th – Friday, July 16th
Grove 2nd Session (2-weeks): Sunday, August 1st – Friday, August 13th

Holiday Home Camp
100 Holiday Home Camp Road
Williams Bay, WI 53191
815-451-9246
[email protected]
Our summer camp program provides children entering 2nd-8th grade with a positive fresh air camp experience. Our programming helps campers foster life skills as they participate in traditional camp activities such as hiking, swimming, boating, arts and crafts, archery, skits, games, outdoor education and much more! While participating in these activities campers gain confidence, responsibility, communication skills, positive sportsmanship, and respect for self, others, and their environment.
Age Group: 2nd – 8th Grade
Dates:
Session 1- June 13-18,
Session 3 June 21-25,
Session 4 July 6th-11,
Session 5 July 14-19,
Session 6 July 23-28,
Session 7 July 31- August 5
Hours: Camp Sessions are overnight sessions. Office is open Monday- Friday 8am-4pm
*Please note these camps are sponsored partnerships*
The Local Moms Network and subsidiaries Chicago North Shore Moms and Libertyville Area Moms does not endorse any one camp and assumes no liability. When making your camp decision, please be sure to perform your due diligence.