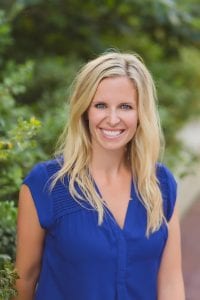 Where are you from and how long have you lived in town? What brought you to the area?
My husband and I are both originally from Deerfield.  After college, we lived in the city for several years and eventually made the move north when our oldest was 1 year old.  I was a teacher here in district 70 and had been commuting to Libertyville everyday for work.  In my time in the district, we both completely fell in love with Libertyville and the community.  We knew that this was where we wanted to make our forever home.  We love the urban feel of the downtown, all the great restaurants, and the welcoming community.  We have lived here for 5 years and we don't ever intend to leave!
Do you have child(ren)? Age(s)
I have three little cuties at home.  Two boys, Will (8) and Luke (5), and a little girl, Sadie (2.5). They keep me busy, that's for sure!
What are your favorite things to do in the area with and without your kids? Family friendly restaurant? Date night?
As a family, our favorite restaurant is hands down Milwalky Taco.  Tacos are my kids' favorite food and they even love the unique flavors and varieties they have at MT.  My hubby and I of course love the food and the margaritas there are pretty fantastic…it's a win-win!  For date night, we really love Main Street Social.  It's such a great place to go for good wine, adult conversation, and the food is delish.
Are you involved in a business venture, a local organization, a creative endeavor or in the corporate world? Please share!
On top of being a mom and taking care of my littles, I have discovered a career for myself in the wellness industry.  I have been in the fitness field since 2008.  I initially began as a Pilates instructor, but I have branched out into the world of barre, group fitness, and now nutrition.  I currently teach several classes per week at Lifetime in Vernon Hills. As moms especially, we have a tendency to put everyone else in our lives first and our personal self-care comes last.  In my classes, I encourage everyone to leave their distractions at the door and just embrace the 60 minutes that they have taken out of their day to focus on their own wellness, both physically and mentally.  I am very passionate about encouraging my clients to focus on the concept of "strong, not skinny". I believe that one's goal in wellness should be to exercise, to eat healthy, to take time for mindfulness all to promote strength of body and mind, while letting go of the social stigma that a certain size or a number on the scale is what will define you.
This passion for wellness translates very well into my home-based business as an ambassador for Plexus Worldwide.  Our company specializes in providing products which focus on improving health from the inside out.  We have some of the best probiotics, multivitamins, and kids' vitamins on the market. We also have a brand new, super simple skincare system which I never go a day without! All of which are plant-based, clinically tested, and totally clean with no artificial ingredients.  I initially started the products solely for my own health. In full disclosure, I struggled with some fairly extreme postpartum anxiety after the birth of my kids and I had read a ton about how gut health has a direct impact on your mental health. Over the past 2.5 years, our products have helped me to manage that stress and anxiety in a clean, natural way and have allowed me to stay off prescription medications.  When I saw how much these products helped me, I knew I had friends and family who needed them too.  I started sharing and have never looked back.  It's been such a blessing to see how my loved ones have seen improved energy, relief from migraines, seasonal allergies, digestive issues, improved sleep…you name it.  I couldn't be prouder of our company and I love being a part of it!
How has this community been instrumental in getting you to where you are now?
I taught kindergarten at Butterfield School for 10 years and that has made a huge difference in where I am in all areas of my life.  Working in the school, I saw what a warm, inviting community this was and I knew it was somewhere I could raise my children. When we first moved here and we didn't necessarily know a ton of people with kids our age, it was so wonderful to be out and about and run into families I had taught or known through Butterfield.  It made us feel welcome and felt like home right off the bat.  More recently, when I began my home-based business, I had so many friends and connections in town that were excited to learn more and support me in my new endeavors. This community is truly a special place to raise a family and we could not be happier to live here.
What's the best piece of advice you've gotten from another Mom?
Momming is tough that's for sure.  One of the best things I've learned (and something I've really needed to keep top of mind recently!) is to "embrace the chaos".  This is a season of life where chaos is simply our reality. The more you try to ignore it or the more you try to control it, the more you seem to drown in it. Embracing the chaos has meant that my house may often be messier than I would like it to be (just come see my piles of laundry!) or that I may not get my shower in everyday as I would like (I can't believe I'm admitting that here!)….but it allows me to have some peace of mind with this season of insanity that we are currently in.  Sometimes it's easier said than done, but it definitely helps me to cope with it all.
What is next for you?
I will continue to spread my love of fitness and my passion for wellness all around the community.  Building my Plexus business and getting our products into people's hands all around will continue to be a big focus.  I firmly believe that everyone can benefit from at least one of our products and I'm always aiming to educate new people about what we have to offer.  Along the same lines of my wellness endeavors, several months ago, I got a group of moms together on Facebook to do a squat challenge.  That group snowballed into a supportive group of women who cheer each other on through fitness challenges, share recipes, parenting tips, etc.  Our group is currently close to 300 members and I'd love to see it continue to expand.  I'm working on finding some ways to keep that group going and use it as a way to provide a support system and safe haven for moms and women of all ages. We named the group, Strong Like a Mother (search it out on FB!), because no one is a strong as a mama!