Where are you from and how long have you lived in town? What brought you to the area?
Born and raised in Romania, I am bi-cultural; my mom was Romanian my dad was Hungarian. In 1989, I crossed the border as a political refugee to Budapest, Hungary and eventually arrived in Chicago as an immigrant. For the past 30 years, I have lived in Lake County (Vernon Hills and now Gurnee) raised a family and built a 20-year career in the pharmaceutical industry. Today, I am yet again building a new chapter.
Do you have child(ren)? Age(s)
Yes, 2 kids. My son Erik, 31, lives in Los Angeles with his girlfriend.
My daughter Anita, 22, and her boyfriend live with me.
What are your favorite things to do in the area with and without your kids? Family friendly restaurant? Date night?
A big part of my free time is spent volunteering at local women's shelters and homeless shelters. I love to run in the morning, take Hot Yoga in Grayslake at the Yoga Effect, and read! My favorite leisure time is going to dinner with my kids, catching up, at one of our favorite restaurants Shakou in Libertyville and Bluefish in Vernon Hills, Also, I love to travel with my daughter and friends.
Are you involved in a business venture, a local organization, a creative endeavor or in the corporate world? Please share!
My background is in the Pharmaceutical industry where I literally started in the mail room and worked my way up to a senior role in Supply Chain over an amazing 20-year career. However, I recently left my corporate life behind to pursue entrepreneurship so that I can dedicate more time to my work in the non profit sector.
Two years ago I opened my own financial service agency, LegacyWealth LLC, with my office in Libertyville. My vision for this company is to be a different kind of financial institution where we provide services available to everyone for free. We provide consultations on retirement investments, getting out of debt, and financial needs analysis. Our clients leave with a solid plan that addresses all their current needs and savings and investing for the future. We work very closely with small business and local non-profit, community organizations, bringing financial literacy education to all! Many families struggle and mostly this is due to lack of financial education. I am committed to ending financial illiteracy in Lake County and making sure No family is left behind. We do Financial Planning with a Heart!
IG: Liztodorovic
FB: Liztodorovic
LinkedIn: Liz Todorovic
YouTube: MoneyGarden – my you tube podcast about money matters and women's topics or personal development
I have the privilege to serve on the board of directors of A Safe Place, the largest domestic violence agency in Lake County, also as board secretary and event chair for annual fundraisers called Wine Women and Shoes. Also, I support The Roberti Center in Waukegan and PADs. My heart and passion is with the nonprofit world, trying to make a difference. I am committed to move the needle in my lifetime showing women of all backgrounds they can build any life they want. I want to leave this world just a little better than I found it.
My latest project is called LEA Girls – Leadership Empowerment Action for Girls. We are approved to teach an 8-week curriculum for leadership and empowerment to high school girls in Waukegan with the intention being to reduce teenage pregnancy so young girls can look for love and acceptance inside themselves and find inspiration and motivation from their own vision and goals to pursue their best life!
My ultimate goal is to start my own non-profit called "Invisible Voices Inspiring Hearts," to help 100 million single moms and their children who come from dysfunction, trauma and disadvantaged background, turn their life around by providing a holistic approach to changing their environment. We plan to have resources to assist with housing, emotional, physical and nutritional well-being, building skills, teaching empowerment, self confidence and self-esteem, learning new skills in a supportive loving community environment… figured, if we are going to Dream, might as well Dream Big!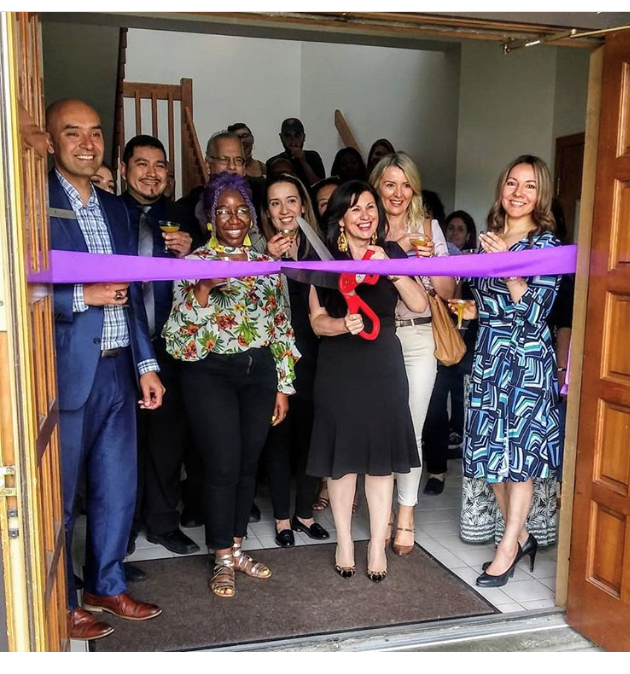 How has this community been instrumental in getting you to where you are now?
Every part of my life today and more importantly every dream I have for my future is fueled and shaped by this community. When I got my first job and the first of many promotions in the corporate world, it was because someone saw in me something I couldn't see in myself, and said "You got potential, I am going to help you because I believe in you!"   In turn, I want to be that person for all the single moms and families that come from poverty, dysfunction, or disadvantage, and say, "Here, hold my hand, I am going to help you, you have so much potential, you can be anything you want to be, and I believe in You!"
What is one thing people would be surprised to know about you?
When I was very young I was part of a modern dance group in high school, I always loved dancing (still do), and my dream was to become a professional dancer!
What's the best piece of advice you've gotten from another Mom?
Best advice I have gotten was from my grandmother, I owe her everything I am today! All that I know about integrity and perseverance, I learned it from her. One of the very best bits of advice I got from her as a mom, she said: "Kids do what we do, not what we say! They are always watching!"
What are your favorite places to travel near and far and why?
With my corporate job I had the great fortune to travel all over the world – one of my favorite cities in the world is Barcelona Spain; in the States, I love California , but around here – I love walking down main street downtown Libertyville and especially in spring and summer, I love our farmers market! … of course, there is no place like Chicago in the summer!
Which podcasts and/or TED Talks inspire you the most?
I love "The School of Greatness" podcast with Lewis Howes; "Goal Digger" with Jenna Kutcher, Marie Forleo, Gabby Bernstein (and their books are amazing ). As for TED talks, my ALL time favorite is Brene Brown, her speech on shame and vulnerability – she is brilliant; and Simon Sinek, "Start with Why."
Tell me about your favorite book/s. I love receiving fiction and non-fiction recommendations!
After my divorce, my life completely changed and since then I only read nonfiction, personal development books and biographies. My favorite books are "A Man's Search for Meaning" by Viktor Frankl; "The Alchemist" by Paulo Coelho; "Think and Grow Rich" by Napoleon Hill; and "How to Win Friends and Influence People" by Dale Carnegie. My guilty pleasure before my divorce were romance novels and my favorite author is Danielle Steele (I think I have all her books lol)
What is next for you?
Help 100 million single mothers and their children turn their life around! … I believe it in my heart I will live to be 100 years old, which is another half a century, so you know I need something to keep me busy 😊
And just spread love, kindness positivity, gratitude!