Where are you from and how long have you lived in town? What brought you to the area?
I grew up in a small town in Southern Minnesota, very similar to Libertyville, just much more rural than suburban! I loved it and had a wonderful childhood there. But I always wanted a little more big-city adventure, so I moved to Chicago in 2006 after college to start my career, and then eventually my husband and I headed to the suburbs after we started having kids. Libertyville was literally a shot in the dark when we moved here in 2013 and we really lucked out. I think it felt like home to me and it only continues to exceed my expectations as a place to raise our family.
Photo Credit: Lacey Ellyn Photography, @laceyellynphotography
Do you have child(ren)? Age(s)
My husband, Bill, and I have 3 kids: Will (4th grade), Emily (2nd grade) and Jake (4s preschool). We also have 2 little dogs, Bauer and Rizzo, that I joke are my favorites because they actually listen to me!
What are your favorite things to do in the area with and without your kids? Family friendly restaurant? Date night?
Our calendar stays full with kid activities most often. Will plays travel soccer for GLSA and travel baseball for LYB, as well as basketball and baseball camps throughout the year and is active in his Cub Scout den. Emily is in gymnastics at LGA, has done dance at Talent Forum, is trying to dabble in cheerleading and is currently in love with her first children's play, The Little Mermaid, at Improv Playhouse. And Jake just started his first soccer team through GLSA, and is in the Sports & Adventure camp through the park district. When I'm not taxi-ing kids around, we love to visit local parks, explore hiking trails and spend time with friends. I also stay very active with our little community; including Fundraising Chair for LCNS for a few years, volunteer on several committees for the Butterfield BFA, regular room mom and classroom volunteer, members at The Chapel, and volunteer where I can at different organizations around the area.
Are you involved in a business venture, a local organization, a creative endeavor or in the corporate world? How'd you get involved with it?
I am the owner of Card My Yard – Libertyville. We are a yard sign rental company, serving Libertyville and the surrounding towns (from Wauconda to Lake Forest, Lake Zurich to Grayslake and everything in between!). I help people celebrate birthdays, anniversaries, new babies, graduations, school events and so much more with huge, colorful and fun signs for the yard! Its SO much FUN! What I love the most is that I get to be involved in every aspect of the business including customer service, marketing and brand recognition, creating each unique order and then the fun of sneaking into the yard to set up the surprise! I feel so incredibly lucky that I get to do something that I love, I get to utilize so many different professional skills and I get to spread JOY to so many others!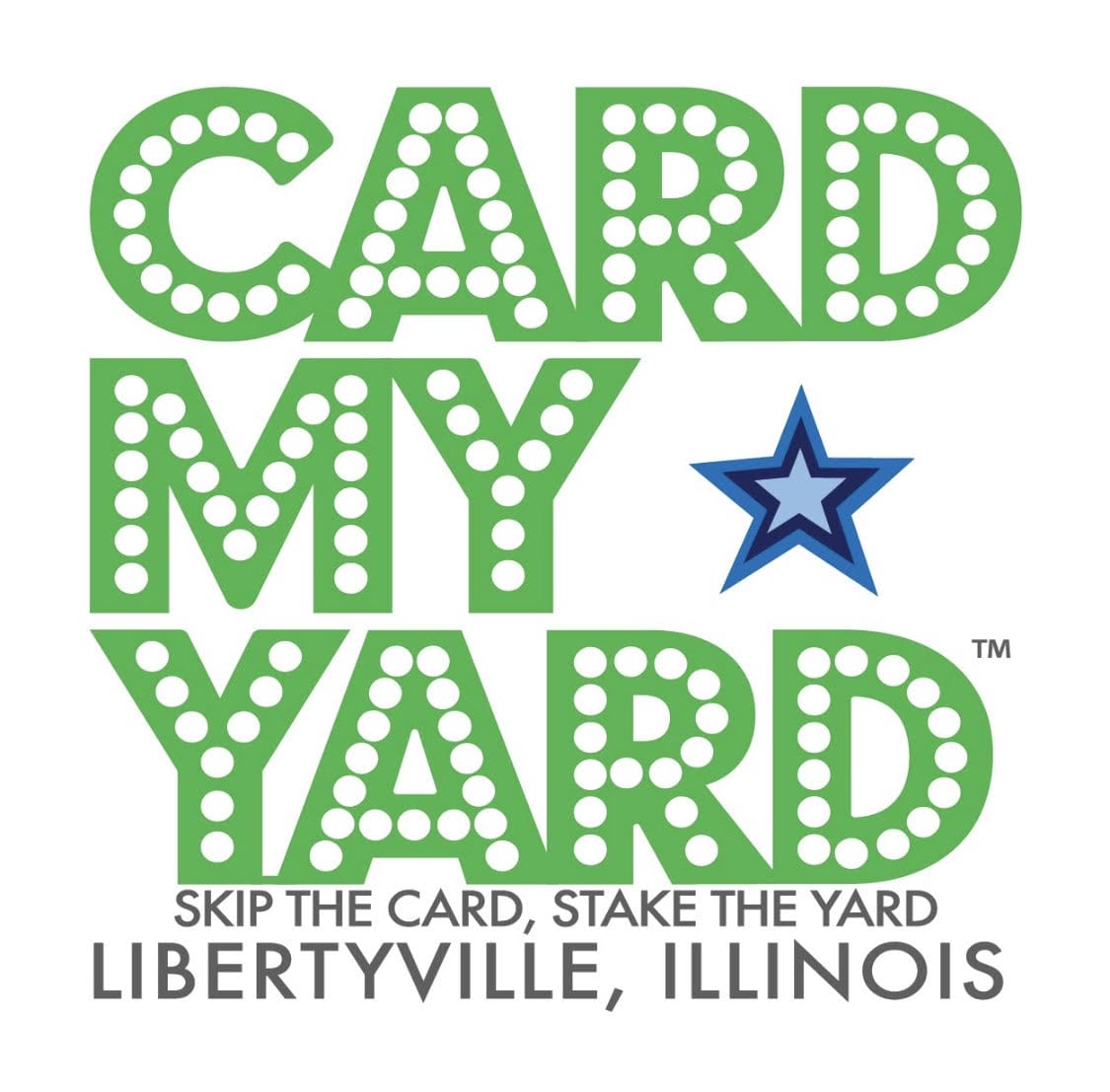 How did you get in to this business and how has COVID changed it for you?
I bought my franchise in June 2019 as something that would be a fun little side hustle, a "mom job" that would still allow me to be full-time mom. But when COVID came and the quarantine hit, everything changed! Almost overnight, my business exploded and I was suddenly helping 60-100 customers celebrate something every single week, all straight out of my garage! It was a true blessing. I was thrilled with the increase in business! But more importantly, my heart was full, knowing that I had something that could still bring smiles to so many during a time that was scary and uncertain. 
Where are you today with your business and what's next?
I am thankful that my husband was able to really take the reins of the household and completely filled in for me at home while I was riding the wave of the "COVID Boom". I was able to find some amazing helpers for the summer and now have a couple of local moms that are my rockstar Sign Fairies doing set ups! After 6 months of working very long hours, 7 days a week, I think I have finally found a better balance and am adjusting to the good fortune of my little business.  I feel SO incredibly lucky to have something that truly weathered the storm and has come out the other side bigger and better than before. I am infinitely grateful for my customers and hopeful that it continues to be something that brings joy to special occasions!
How has this community been instrumental in getting you to where you are now?
This community and my whole territory has been absolutely amazing! I can not say thank you enough for embracing this little idea and making it A Thing. I am beyond blessed. I put customer service and quality above all, in every situation, and I hope it shows. I also try to give back where I can through donated signs and gift cards to local organizations and schools, discounts for schools and military families and partnering with other locally owned businesses to help support one another!
What's the best piece of advice you've gotten from another Mom?
I hear it constantly and still have a really hard time honoring it – but "Its OK to say NO" often rings in my ears. And yet, I am kind of a yes person! So I often find myself with a really full plate, hustling to keep all the balls in the air! I love to be busy, but I also need to be better about taking time for myself more often.
What are your favorite places to travel near and far and why? 
My family is all still in MN so we spend a lot of long weekends traveling there to visit. We have also spent a lot of time as a family in the Northwoods, Minocqua, WI area over the years. But I love to see new places, so as the kids get older, it's easier to explore more – we have recently been to several Michigan beaches, rented an RV for the first time, visited the Smokey Mountains, enjoyed a Disney Cruise in the FL area and lots of a little stops along the way. But I hope to show my kids more of our beautiful country and have several National Parks on our list of 'must visit before they are too old to want to go with us'!
Tell me about your favorite books/podcasts/etc:
One perk of this job is that I spend a lot of time in the car, and that has allowed me to listen to a ton of podcasts and audio books! I am little bit of a news/society/culture junkie lately – for better or worse, ugh – but I like trying to understand where we are at and how we got to this place, an uncertain and pivotal moment in our society. Nerdy, I know! Ha. But I also love historical fiction stories. I recently loved listening to, "The Book Woman of Troublesome Creek" by Kim Michele Richardson. And with some book club friends, we read, "Present Over Perfect" by Shauna Niequist, which could not have been a more timely reminder!
What is next for you? 
I continue to pour my heart in to Card My Yard. I am so appreciative of what it has been for me and my family. I am a very proud business owner and I plan to continue spreading joy across our area. I hope to partner with more local businesses and give back as much as I can.