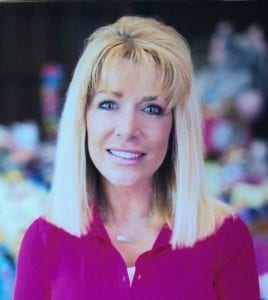 Lake Forest based Fill a Heart 4 Kids (FAH4K), began around a kitchen table with Annie McAveeney and her daughters Lilly and Ellorie.  Now FAH4K helps over 1,350 unaccompanied homeless youth and foster children in the Chicagoland area every year with opportunities and necessities to help them thrive and give them hope 4 a Brighter Future.
Annie and her wonderful Board work around the clock orchestrating over 200 annual volunteer opportunities and fundraising events with individuals, schools and corporations volunteering to help the most underserved children in Illinois.  Each program was created to help these kids enjoy common childhood experiences to help them feel loved and remembered so they can heal and have hope for a Brighter Future.  Some of the programs that enrich the lives of these underserved youth include: Survival BacPacs 4 Kids – Backpacks stuffed with necessities to help homeless kids eat and survive; Project Boo – A program to help children living in group homes celebrate Halloween like their classmates; and Project Smart – A program that provides school supplies to youth so they can succeed in school…to name only a few!
After taking in one homeless baby, Annie wanted to do more, and so did her family.  FAH4K was founded 12 years ago after her daughter Lilly asked "who makes Valentine's Day special for homeless children and kids without moms and dads?"  FAH4K now works with 13 grouphomes for children and four organizations serving unaccompanied homeless youth across the Chicagoland area. FAH4K helps over 1,350 kids in need every year.
Annie is so passionate about making sure every child feels immensely loved and valued regardless of their circumstances that she gave up her career as a private label clothing designer and owner of a women's apparel store to take in homeless youth, and help children without families who have been abused, trafficked or abandoned.  The FAH4K Board and Annie's daily objective is to help every child feel valued and give them a hope for a Bright Future.  This personal mission continues to drive them every day.
In 2018, FAH4K received incredible recognition for their work across Chicagoland when Annie received an Illinois Governor's Award for Volunteer Service for helping venerable children in need.
Since the beginning, FAH4K has…
delivered 30,165 4 Kids Survival BacPacs and 4 Kids Care Packages;
served 50,000 4 Kids Meals© to unaccompanied homeless youth;
distributed over 22,500 4 Kids School Supplies© and 8,000 supplemental school supplies;
launched a pilot Work Program for foster youth;
hosted 172 events to help kids experience happiness and hope across Chicagoland;
delivered over 2,000 monthly notes of encouragement to youth; and
had more than 6,000 volunteers.
All of this is made possible through the generosity of incredible donors and volunteers.Visit www.fillaheart4kids.org to make a donation and to learn about ways to get involved throughout the year and stay connected with Fill a Heart 4 Kids at Facebook @FillAHeart and Instagram @FillAHeart4Kids.