Work Out Your Way
at Park View Fitness
Mundelein Park District's Park View Fitness has undergone many upgrades over the last 12 months. As we move into 2019, Park View is adopting the slogan "Work Out Your Way" to showcase all of our growth. Changes that have taken place in the past year include a new gymnasium floor, a 50+ class group exercise schedule, new program classes and a redesigned membership structure. In addition, our fitness floor is currently undergoing a remodel which will include new equipment.
Enjoy the benefit of Cross-training
As fitness professionals, we believe that it is key to find a method of physical activity that you enjoy and promotes progress. Having a variety of options allows for cross-training which has proven to be extremely effective. "Combining two or more physical activities in a cross-training regimen can effectively achieve a reduction in body weight and fat stores." — American Council on Exercise
Park View Fitness offers an array of activities to help you create cross-training goals and shake up your fitness routine. For example, you can take a dip in the indoor pool, attend a group exercise class, improve your skills during open gym, walk or run laps on the indoor track or take advantage of the weight and cardio equipment on the fitness floor. All of these amenities and more are available for $31 per month. If you sign up with a family member living in your household, you pay only $25 per month per person. Additionally, seniors and veterans receive 10% off.
Meeting the needs of parents
As a park district facility, we understand that children are a priority for many of our members. At Park View Fitness, members can use our Kidz Centre, an on-site childcare service, for only $10 per month per child. Children ages 12-13 are welcome to attend group exercise classes and work out on the fitness floor with a guardian. Full fitness memberships are available for ages 14 years and older. In addition, parents with children can find youth programs that will spark their child's creativity and ambition.
Not sure where to start?  Work with our personal trainers
Park View's personal trainers provide one-to-one and semi-private packages that will motivate you and get results. A personal trainer will create a workout plan tailored to your individual needs and goals as well as accommodate for an injury or other obstacle that may prevent you from exercising. Park View members receive discounted rates for personal training.
Let us help find the method of physical activity that works for you
We are confident you will find a way to Work Out Your Way at Park View Fitness. We strive to make exercise more about fun and less about work. We even offer a sauna and whirlpool to relax your muscles after all the fun.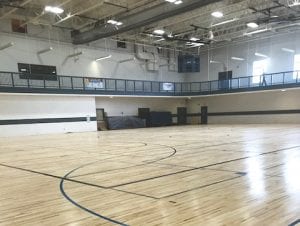 Show this article to the front desk and receive one free guest pass.
Stop by for a tour of the facility at any time.
We are here to support your 2019 resolutions!
Park View Fitness is located at the Mundelein Community Center located at 1401 N. Midlothian Rd., Mundelein. To learn more call us at 847.388.5430 or visit mundeleinparks.org.