Photo Credit: Carrie Coroneos Photography

Where are you from and how long have you lived in town? What brought you to the area?
I am originally from Grayslake but moved to Libertyville 10 years ago to be in the community in which my husband, Dan grew up in. We always knew we wanted to live in Libertyville. It's just what made sense to us. We loved the idea of living in the community in which we both worked in as well as raising our kids in a community with excellent schools. The vibrant downtown was also a huge selling point.
Do you have child(ren)? Age(s)
Dan and I have two daughters Harper (4) and Paige (2).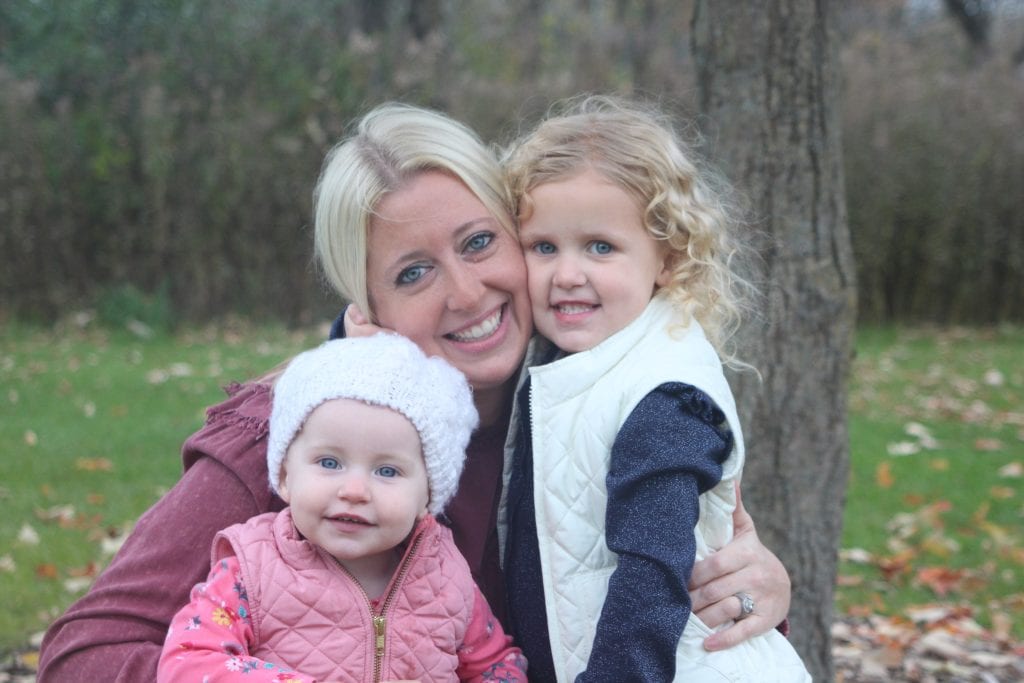 Photo Credit: Carrie Coroneos Photography

What are your favorite things to do in the area with and without your kids? Family friendly restaurant? Date night?
Seeing as how Dan and I met at Mickey Finns, this is definitely our go to place in downtown Libertyville. How can you not love MF, amiright? We go to MF with our kids, other families, date nights, and basically any other time we have a reason to get out. First Fridays and Lunch in the Park in downtown are also our faves. This summer was our second year belonging to Lake Minear and we couldn't have had a better summer at the Lake. I often feel like it's a hidden gem on those perfect summer days and we will surely be returning next summer.
Photo Credit: Carrie Coroneos Photography

Are you involved in a business venture, a local organization, a creative endeavor or in the corporate world? Please share! Both my husband and I are involved within our community in a variety of different ways.
We both work in the Libertyville area. Dan is a 6th grade teacher at Oak Grove School and I'm a Registered Nurse at Advocate Condell Medical Center. We love being able to serve those within our own community.
Aside from teaching, Dan also coaches football, wrestling and lacrosse at Libertyville Highschool. He also is the director and runs our local Libertyville Warriors Lacrosse program. When not on the field or in the classroom Dan is lead singer for "Henneberry". His band not only has a great time playing at local venues but also loves to give back to the community. They have played Advocate Condell's "Rock the Cure" for the last 4 years and I absolutely love when our two worlds collide like this.
When I'm not working at the hospital I am part of the steering community for our local MOPS (Mothers of Preschoolers) group. The belief is simple, in that great things happen when moms come together face to face. We provide support to moms within our own community helping each other through this thing called motherhood one Friday at a time. I would love to invite any Mom interested to come with me! I also have a spot in the corporate world as I have my own business as a Rodan and Fields consultant. Making anyone feel better about themselves through skincare is incredibly rewarding and I'm thankful for everything my side hustle has brought me. Click here to view my R + F website.
How has this community been instrumental in getting you to where you are now?
Living and working in this community has been the greatest confirmation for us knowing we are raising our girls in one of the best communities. We have made friendships and connections both socially and professionally that have made our community feel like family. Working in our community makes us that much more passionate about our jobs thus making it more rewarding as well.
What is one thing people would be surprised to know about you?
I served in Jamaica on a medical missionary trip in March of 2014. It was a life changing experience and I look forward to the next one!
What's the best piece of advice you've gotten from another Mom?
Oh wow…..I feel like I've gotten so much advice and it's all been so good and relative to whatever I may have been going through at that time. I'll share a couple that I really love
"Stay Present…..Don't Give Up"
"Nurture yourself in order to serve your children "
"This too shall pass"
What is next for you?
I think Dan and I will be lifelong Libertyville residents and I'm excited to see where we end up professionally and still think we will be serving within our community. I'm currently in school obtaining my Master's Degree in Nursing, so essentially anything is possible once I graduate. Until then I plan on continuing to nurture these little girls as best as I know how and making sure to have fun along the way!