Where are you from and how long have you lived in town? What brought you to the area?
We have been proud Libertyville residents since 2012, with children attending Copeland Manor Elementary School, Highland Middle School and Libertyville High School. We moved to Illinois in 1998 when I was recruited to start the public relations/corporate communications department at CDW. Before then, my husband and I lived in sunny South Florida.
Do you have child(ren)? Age(s)
We have three kids at home and one in heaven. Taylor is a freshman at Clemson University; Parker is a sophomore at LHS and Riley is a 7th grader at Highland. Their big brother, Jake (aka Super Jake) watches over them from heaven. He died of a rare form of pediatric cancer in 2005 when he was just four years old.
What are your favorite things to do in the area with and without your kids? Family friendly restaurant? Date night?
We love First Fridays and enjoying eating and shopping at our local businesses. Main Street Social and Chrissoulas are our favorite spots but a beer and burger at Mickey Finns is always a good time too.
In addition to the restaurants you mentioned, can you share your TOP 5 favorite local businesses? It could be stores that you frequent for clothes, kids, home decor, healthcare, fitness, wellness, beauty salons or spas, or family resources (photographer, financial advisor, lawyer)… We love supporting local.
Main Street Social is our go to restaurant for good food and amazing service. Duke, Colie, Shana, Maria and the whole staff there are just wonderful and treat us like family. I love Libbyville and My Sanctuary for clothes but Edie is my absolute favorite. Jan and Karen have a wonderful store and the new home goods addition is amazing.
Are you involved in a business venture, a local organization, a creative endeavor or in the corporate world?
I have been in corporate communications for more than 30 years, and spent more than 20 years in pharmaceutical/health care PR at great local companies including Abbott, Pfizer/Hospira and Medline. For the last three years ago, I have worked as the President and CEO of Monarch Communications, LLC, a corporate communications consultancy specializing in business transformations like acquisitions, restructurings, culture change and diversity/inclusion endeavors.
In addition to my "day job," my husband and I — along with an amazing group of volunteers, many of whom are also Libertyville area moms — run a national nonprofit organization called The Super Jake Foundation (www.thesuperjakefoundation.org). I'm proud to say that this totally volunteer-run organization, with no paid staff, has raised almost $4 million for kids with cancer. Due to COVID, we have had to cancel our last several fundraising events but cancer never sleeps so the need is greater than ever! We are excited to be back, bigger and better than ever, with the Super Jake Red Cape Gala coming up on February 12, 2022 at the Westin Northshore in Wheeling. Tickets can be purchased at www.thesuperjakefoundation.com.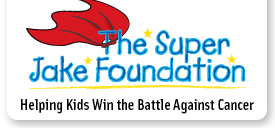 What is one thing people would be surprised to know about you?
Hmmmm. This is a tough one because I'm pretty much an open book and wear my emotions on my sleeve. I would say that some people are surprised to learn that I'm "Super Jake's mom." Some have heard of Jake's story either through our local fundraising efforts, or through our partnership with The MIX radio station, but haven't put two and two together and connected me as Jake's mom.
Are you involved in any volunteering or philanthropy? Do you have a favorite local non-profit or charity?
As I mentioned above, I'm the Founder of The Super Jake Foundation, a national nonprofit organization dedicated to helping kids with cancer. We are based right here in Libertyville and are lucky to have an amazing Board of Directors and group of volunteers, most of whom are also residents of "The Ville."
We are humbled and honored to provide funding and support to kids fighting a rare form of pediatric cancer called neuroblastoma. We are currently looking for sponsors and silent auction items/baskets/packages for our upcoming Super Jake Red Cape Gala. Anyone interested in joining us in the fight against pediatric cancer can reach out to me at [email protected].
What are your favorite places to travel near and far and why?
Throughout my career in corporate communications, I have had the opportunity to fly all over the world to interesting places like Dubai and Singapore, among others. According to Ancestry.com, I'm more than 70 percent Irish so I would have to say going back to Ireland is always a travel highlight. My favorite place to travel is back "home" to South Florida where most of my family still lives.
Tell me about your favorite books. I love receiving fiction and non-fiction recommendations!
I'm a voracious reader but read purely for pleasure-no biographies or nonfiction for me 😊. I try to read a book a week but often can't recall the title or author, if I'm being honest. The book I just finished is The Last Anniversary by Liane Moriarty. Her books always have interesting twists and turns that I enjoy.
What is your favorite thing about the Libertyville Area Moms Network?
I enjoy learning about other moms in the area and seeing the strength in our diversity and the different gifts we bring to our community.
Between mothering (sometimes smothering 😊) my three kids, running my own corporate communications consultancy and managing The Super Jake Foundation, life is always busy and interesting. The beginning of the new year will be crazy busy as we put the finishing touches on the February 12 Super Jake Red Cape Gala.
*This post was sponsored by The Super Jake Foundation