Where are you from and how long have you lived in town? What brought you to the area?
I spent most of my childhood in Libertyville and graduated from Libertyville High School. After high school I spent almost twenty years living in too many states to count that literally spanned the entire country. About two years ago I returned to the Chicago-land area with my wife, Holland, and our family. We chose Libertyville for the same reason my parents did – we wanted to join a wonderful community with great schools, friendly people, and many family-focused activities.
Do you have child(ren)? Age(s)
My son Whittaker just turned 9 and is absolutely obsessed with sports. Sutherland (6) and Barrett (4) are my two red-headed daughters, and they have the fiery personalities to match. I'm not quite sure when it came about, but we must have one of the loudest families you'll ever come across. You will hear us coming a mile away!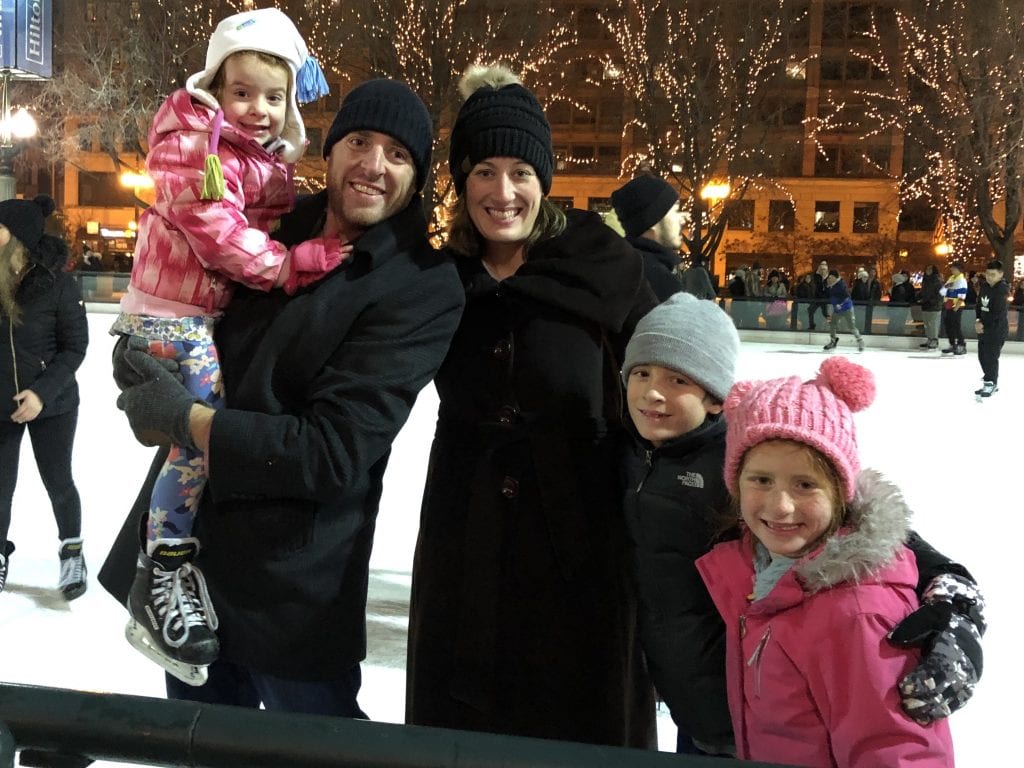 What are your favorite things to do in the area with and without your kids? Family friendly restaurant? Date night?
I love to share with my kids many of the things that I used to do here when I was growing up. I have coached my son's baseball and football teams on the very fields where I used to play. Holland and I volunteer at Copeland Elementary School and I'm able to show my children the rooms where I attended classes. I know what kind of reaction I'm going to get with a surprise bike ride to the Dairy Queen because I used to be on the other side of those adventures.
One thing that has changed quite a bit since I was a kid are the restaurants, especially downtown. Mickey Finn's, Austin's, and Firkin are classic Libertyville options, and we often find ourselves there just like we did when I lived here before. But additionally, date night favorites include the Green Room, Chrissoulas, and Shakou. One more thing: the Picnic Basket is still just about the best lunch place around, but it looks a whole lot different than it did when I was a kid!
Are you involved in a business venture, a local organization, a creative endeavor or in the corporate world? Please share!
After returning to Illinois, I established the Burton Law Firm, LLC, a legal practice with a focus on estate and small business planning. I've previously worked as an attorney in a number of different capacities including for big corporate law firms, non-profit organizations, and in state and local government.
When I formed my own practice, I was determined to provide individuals and families, particularly those who had never worked with an attorney before, a simple, comfortable, and enjoyable experience. I have found that many parents have decided that they need to take the necessary steps to provide for their children should the unexpected happen, but it can be an incredibly difficult step to sit down and imagine any number of scenarios that would leave them unable to take care of their children as they do now.
Understandably, the mere process of writing a will can generate significant stress and anxiety. That is why when we work with our clients, we are committed to not only providing expert legal advice, but also providing a compassionate approach to all of the issues that accompany forming an estate plan. Once we form a plan for our clients, we enjoy nothing more than hearing them say that the process was so much easier than they thought it would be.
How has this community been instrumental in getting you to where you are now?
It's hard to overstate how instrumental the local community has been in getting me to where I am now. I recently visited Vernon Hills High School to see my former high school Algebra teacher, and I reminded him of the advice he gave me over twenty years ago. Shout out to two of my high school super-teachers who are still at it: Shawn Healey and Mark Buesing!
I joined the Marines right out of high school and there are countless ways that the community supported me and fellow veterans once we returned from overseas. What's more, the community supported my parents, who certainly had a tougher time with things than I did.
I distinctly remember when Studio West Photography displayed our family picture with me in uniform in their front window on Milwaukee Ave. I love the fact that my children will one day have their high school pictures on display in stores along MainStreet Libertyville. Libertyville has maintained its small-town community culture, and that's something I've come to appreciate even more since I've moved back here.
What is one thing people would be surprised to know about you?
What would likely come as no surprise is that I enjoy some traditionally "manly" activities. It would not be unusual to see me sporting a beard, riding a motorcycle, and trying my hand at a new woodworking project.
That being said, however, you would just as likely see me enjoying a yoga class, taking my daughters out for manicures, or weaseling my way into my wife's wine and cheese book club gathering to discuss recent topics from a Rachel Hollis book – yes, that last one was very specific because it happened just a few months ago…
What's the best piece of advice you've gotten from another Dad?
My father provided me with a wealth of advice not only with his words, but through his actions. His highest priority was spending as much time as possible with his children while we were growing up. That is a principle I have personally adopted.
It's pretty easy to allow work to occupy all of your time if you let it, so I make a point of maintaining a flexible schedule so that I can spend lots of time with my kids. Every time I'm asked for yet another bed time story, or to watch the 17thjump off of a diving board, I remind myself that very soon, my kids aren't going to be so eager to have my attention.
What are your favorite places to travel near and far and why?
I love traveling anywhere I can experience something new or gain a different perspective. About three years ago, I traveled to India and was exposed to things I had never seen before. It was a life-changing experience that left me with exciting memories and new friends. I'm also a sucker for just about anything Disney World-related. We took our kids there for the first time earlier this year and I'm already trying to plan another trip back.
What is next for you?
As my law practice grows, I'm playing with a relatively unique idea in comparison to the conventional law firm. Ever since I became a lawyer, I have wanted to create a community-focused law practice that incorporates stay-at-home moms and dads who are no longer interested in working for a more traditional law firm. Over and over I have seen phenomenally talented attorneys leave private practice to stay at home with their families once they have children. Often, these lawyers have developed significant legal expertise and still have a desire to practice law, but they are not interested in dealing with the high-stress demands of remaining at a large law firm or navigating the relatively involved process of starting their own practice.
It's an ambitious goal, but I hope to expand our law firm to regions throughout the country where we can partner with and empower stay-at-home moms and dads with the flexibility, continuing professional development, and the support necessary to maintain a legal practice while managing all the many things necessary to take care of their families.
To highlight that effort, Janelle Lilley Cline is currently leading the firm's estate planning practice in Arkansas. Janelle and her husband, Jason, are dear friends living in Little Rock and they are expecting their second child very soon. Janelle is truly among the most talented professionals I have ever met. In addition to being a fantastic attorney, she approaches her work with an incredible amount of interest and compassion. Our clients are delighted to work with her, and I am fortunate have her as part of our practice.
Website: scottburtonlaw.com
Email: [email protected]
Phone: (847)400-4752